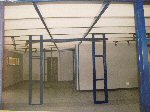 See our Special Requests gallery in Gauteng!

Church benches, art gallery internal display frames or rotating coal sift, there is affordable options. Read on how EB Staalwerke can help.
Custom designed steel installations in Pretoria
There are many times when you find yourself in need of a specific steel product that are not manufactured commercially, or are not readily available through the normal retail routes. However that does not mean that you need to go without in this technologically advanced day and age.
EB Staalwerke also provides custom designed steel installations in Pretoria, Centurion and Midrand for their varied clientele. Depending on their needs, the following steel products can be created and installed
Art gallery internal display frames
All of their product ranges can be made to client specifications. Their existing products and specially designed and manufactured products are all made with the client's satisfaction in mind.
Other products manufactured to size and specification includes the following:
EB Staalwerke has been in operation for more than 15 years, servicing the greater Pretoria and Midrand areas. Their area of expertise is wide ranging, including all steel products in balustrades, burglar bars, carports and roofs and security gates and fencing. No job is too big, or too small.
For your special request products ranging from dog kennels and rotating coal sift to church benches, contact EB Staalwerke for an affordable and quality solution to all your steel product requirements.
Back to Custom designed steel installations Gauteng